…and how I use that to justify hiring a virtual assistant
I've visited the idea of hiring a cleaner for my home countless times over the years, though in my head I was going to justify it by becoming so busy with work that I wouldn't even have time on the weekends to do it myself regularly.
It sounds ridiculous when I type it, let alone say it out loud!
That all changed a couple of months ago when I was asked to speak at this year's National Home Staging Symposium about how to find and work with a virtual assistant (VA).
I knew that I'd need to explain what a VA was, because of the blank looks I often get at events when I'm asked what I do (there is a reason Rogue Monday references "business support services"!). Though that part was easy.
What I really needed was inspiration to explain why anyone should hire a Virtual Assistant.
Now there are plenty of different opinions on why and when you should get a VA, though I would say it's when you find yourself working on things that aren't the best use of your time and, of course, when your business has started generating an income. VAs don't work for free!
But what did that mean to my audience? How could I explain the concept of "the best use of your time"?
As I was "researching" (procrastinating) for my presentation, I read a post by the event's keynote speaker, Denise Duffield-Thomas about the types of paid support she gets at home which allows her to focus on her business and family.
I had a cleaner booked in within an hour of reading that blog post. Being 7 months pregnant may have helped as well!
That life-changing decision de-stressed my life and I remembered that I've always determined the best use of my time by seeing my time as an hourly rate.
The best thing about hiring a cleaner was realising that the logic of deciding to get a cleaner would apply to outsourcing business operations to a virtual assistant as well.
My presentation was taking shape!
I realised that I have to do 2 hours of chargeable work to earn enough for my cleaner to help me for 4 hours.
The next thing I realised is that, while I'm a super organised person and I actually enjoy cleaning when I get around to it… it would probably take me 6 hours to accomplish what my cleaner does in 4 hours.
That is because, in my home, cleaning is my cleaner's only job and she's motivated (*rubbing fingers together*) to show up and do it well. Though for me (and my husband!), in my own home, with 3 children, it's one of many unpaid jobs.
Combine these concepts and you can see that… by outsourcing, I get back 6 hours a fortnight where I was earning $0 per hour. Meanwhile, I only have to work for 2 of those hours to pay for the outsourcing and I can turn those other 4 hours into additional income, or time with my family!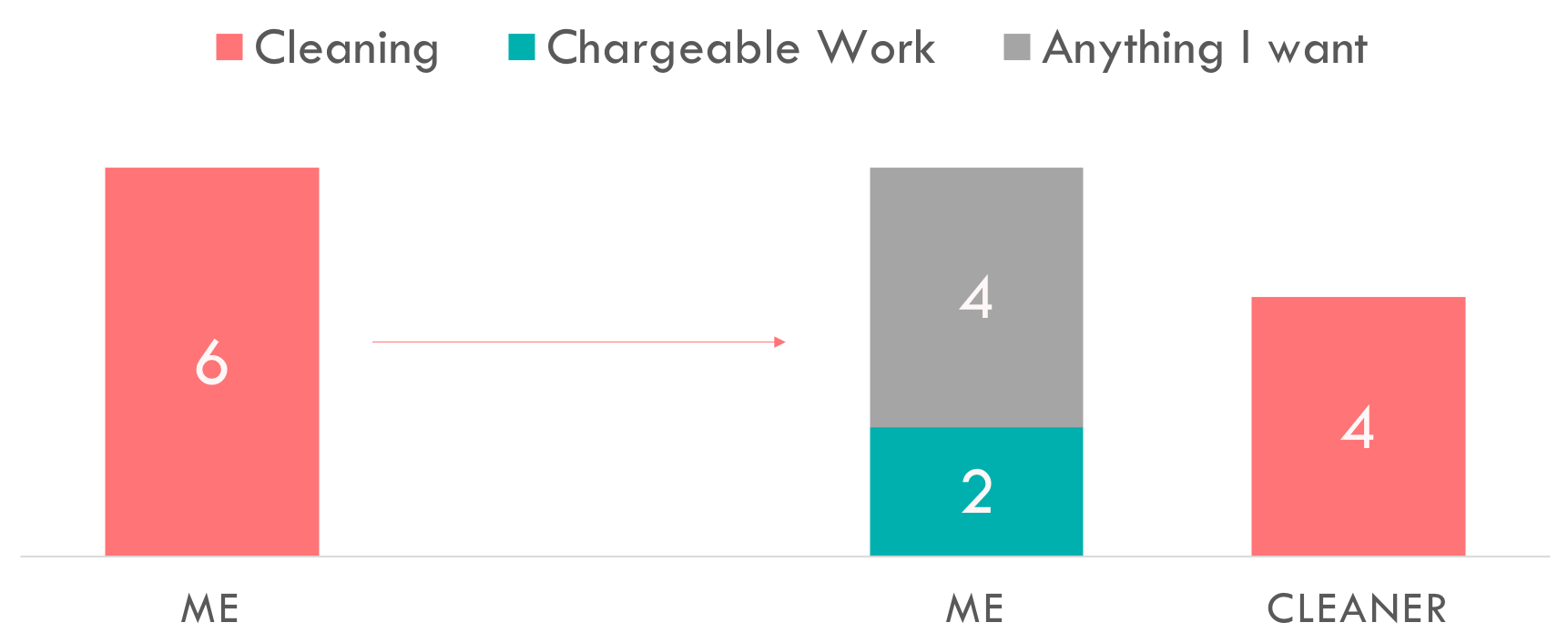 You may think you aren't busy enough to justify a virtual assistant because there is not enough work coming through the door. Though if a VA worked for just 3 hours a week to give you back 3-5 hours, how much more chargeable work could you bring in the door?
What if you don't know your hourly rate?
I've assumed you know what this is, from when you decided how much to charge your clients!
If you don't know, your homework is to work out how much you would have to pay someone else per hour to do your client work for you. Not your admin or quoting, the work your clients engage you to do.
Now that you know:
you don't need to wait until you're working weekends to get a Virtual Assistant;
what your hourly rate is; and
how many hours you want to free up…
…you should be able to work out what your budget is for a virtual assistant. Just remember, that the less you're willing to pay, the more likely you are to find yourself spoon-feeding tasks, repeating instructions and fixing mistakes.
Likewise, the more you're willing to pay, the more likely you'll find someone experienced and highly efficient who you can delegate responsibility (not individual tasks) to.
It's up to you to decide what you're willing to spend more of – your time or your money – but remember your time as an hourly rate!
It really is true… Time is money.
That's also why I always recommend writing a scope for the virtual assistant role you want to fill to ensure you make the hiring process as quick as possible, however, if you're like many of my clients and take care of decisions in one phone call – I'm ready.
One last note – when you are budgeting for a virtual assistant, factor in the extra 5-10 hours someone will need to spend learning about your business. When you are interviewing, make sure you ask them how long they think this will take and whether or not they charge for this time.
What are you still doing reading this? Go hire that cleaner VA!